Efforts to Clean Up Switzerland
"A lot of infrastructure in the Alps dilapidates due to a missing use, the absence of owners or an unclear legal status. The infrastructure built in the latter half of the 20th century consists of solidified, impregnated wood, and metal. A recent survey by mountain wilderness has shown that there are – just as an example – over 600 ski lifts without being used, left for decomposition.
The aim of this Mountain Wilderness Switzerland's project is the deconstruction of a decayed hut in commune of Safien, the canton of Graubünden, in an appropriate way (professional recycling and waste disposal). It involves all the necessary work to deconstruct the building: Obtaining the permission to do so, inspecting the material used, organising their appropriate recycling or disposal (where not possible elsewhere), and – finally – the deconstruction. Hence, the local habitat is able to regenerate, biodiversity and the ecosystem will profit from our action in the long term. The spot once covered by the building will be restored to its natural state with long term benefits for plants, animals (and mountaineers)."
To learn more about this project click here.
Dust from Sahara found in European Alps
"Deposition of Sahara dust (SD) particles is a frequent phenomenon in Europe, but little is known about the viability and composition of the bacterial community transported with SD. The goal of this study was to characterize SD-associated bacteria transported to the European Alps, deposited and entrapped in snow. During two distinct events in February and May 2014, SD particles were deposited and promptly covered by falling snow, thus preserving them in distinct ochre layers within the snowpack."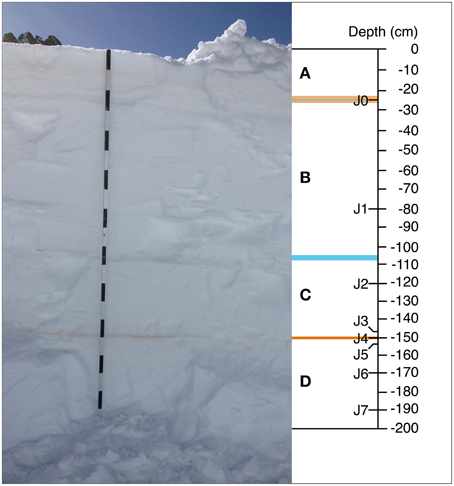 To find out more about the dust from the Sahara that blew all the way to the Alps, click here.
Antarctic Glaciers Act as Carbon Sinks
"Glacier surface ecosystems, including cryoconite holes and cryolakes, are significant contributors to regional carbon cycles. Incubation experiments to determine the net production (NEP) of organic matter in cryoconite typically have durations of 6-24 hours, and produce a wide range of results, many of which indicate that the system is net heterotrophic. We employ longer term incubations to examine the temporal variation of NEP in cryoconite from the McMurdo Dry Valleys, Antarctica to examine the effect of sediment disturbance on system production, and to understand processes controlling production over the lifetimes of glacier surface ecosystems. The shorter-term incubations have durations of one week and show net heterotrophy. The longer term incubations of approximately one year show net autotrophy, but only after a period of about 40 days (~1000 hours). The control on net organic carbon production is a combination of the rate of diffusion of dissolved inorganic carbon from heterotrophic activity within cryoconite into the water, the rate of carbonate dissolution, and the saturation of carbonate in the water (which is a result of photosynthesis in a closed system). We demonstrate that sediment on glacier surfaces has the potential to accumulate carbon over timescales of months to years."